Eco-stitcher ThruShort A type
3-less points
1.No Rust & Scratch.
2.No Para-Adhesion
3.No Classification processing. Because the thread is made by pulp.
5 Good Points
1.Accommodates corrugated boxes 100mm wide or more.
2.Stitched cardboard boxes can be unpacked just by pulling out the yarn without use of tools.
3.Achives higher compression strength of stitched boxes as compared to that of wire-seamed boxes.
4.Contributes to reducing CO2 emissions. According to the estimation in life cycle assessment,CO2 emissions are reduced by 1.16g per one shot of metal wire on the corrugated box.
5.It is easy to accommodate a variety of sizes so that the manual feed.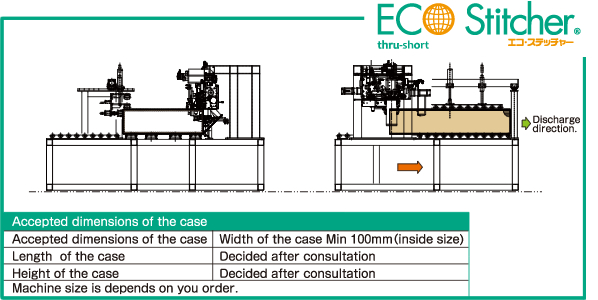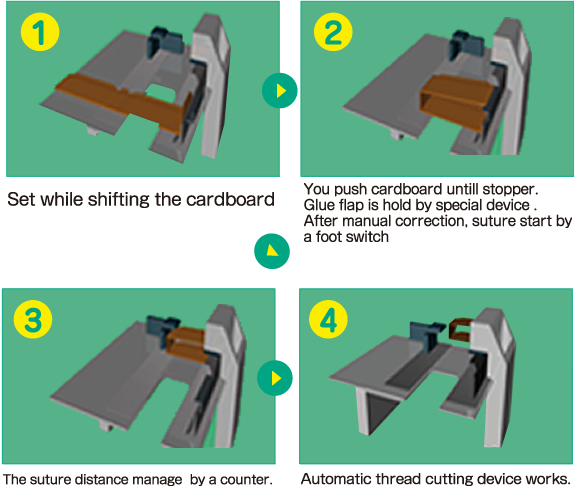 Machine details information

Sewing method

Straight 2-lines, Single chain stitch

The width of the seam

12mm

Sewing pitch

The middle pitch is 15 mm. The last pitch is 7.5mm twice

Sweing speed

9M~12M/M

Cutting system

Automatic thread cutting device

Thread

Specified thread

Needle

Specified needle
Dry filter or dryer needs